Want the inside scoop on who is friends with whom on Facebook? Here's how to do the same using Facebook Friends Mapper! (step-by-step)
In the last blog, we talked about how to hide your friends on Facebook so that you can enjoy better privacy. But apparently, if you want to view someone's friend list, there are ways to do that. Why would you do something like that? There could be many answers to this question.
Maybe you want to run an analysis. Or maybe you are finding someone that might be a possible connection. Whatever the reason may be. We recently came to know that it is possible using Facebook Friends Mapper. This piece of software is not only a great friend-circle mapper but also helps you go beyond that.
What is Facebook Friends Mapper?
Facebook Friend Mapper is a PC software that creates maps of friends to a Facebook profile. Suppose, you want to know how many mutual friends do you and your neighbor has, you can find out using this app. The map displays various kinds of connections between Facebook friends. You can view all of this data in the form of a map.
How does this help? You can analyze connections and see who is friends with whom. In social spheres and marketing domains, this information can be highly valuable.
Suppose you want to check how many of your office colleagues are friends with your manager. You are doing this in order to expand your connections. You can later add these friends to your profile and be a part of the professional circle.
So, the simplest way to do this is to peek into your manager's friend list. Then you would need a list of all your office employees to check against the list. It's a huge mission if you ask us. Therefore, using the Facebook Friends Mapper tool, you can simplify this task to a great extent.
You will directly be able to see who is friends with your manager in one go. None of the sorting and comparing required. The same process can be used in a multitude of ways.
How does Facebook Friends Mapper Work?
The tech behind the app is pretty simple. When you search for an account on Facebook, the app fetches all the friends of the account and displays like a map.
The app utilizes the publicly shared information such as public friend lists. Anyone who has a Facebook account with friend list privacy set to public will work with the app. The algorithm carefully sorts the friends with given conditions and you get a viewable map.
So, you can view mutual friends,
Using the map you can easily figure out the whole picture. It'll make the social intelligence part really easy for someone who is looking for such a piece of information.
The app claims to be able to view even the friend lists that have been kept private by the users. But this is only possible if the user has at least one mutual friend with the account they're searching. If there is no mutual friend, then it's hard to analyze the private friend list.
How to use Facebook Friend Mapper in 2019?
It's really simple to use the Facebook Friends Mapper. You can download the software from the official site. The app requires a login and is available for a fee of about $50 for new users. More information can be found on their site itself.
Here are the steps to analyze the connections between two Facebook accounts.
Step 1
Go to the Facebook Friend Mapper application and login with your official account. You can then start exploring the Facebook friend maps.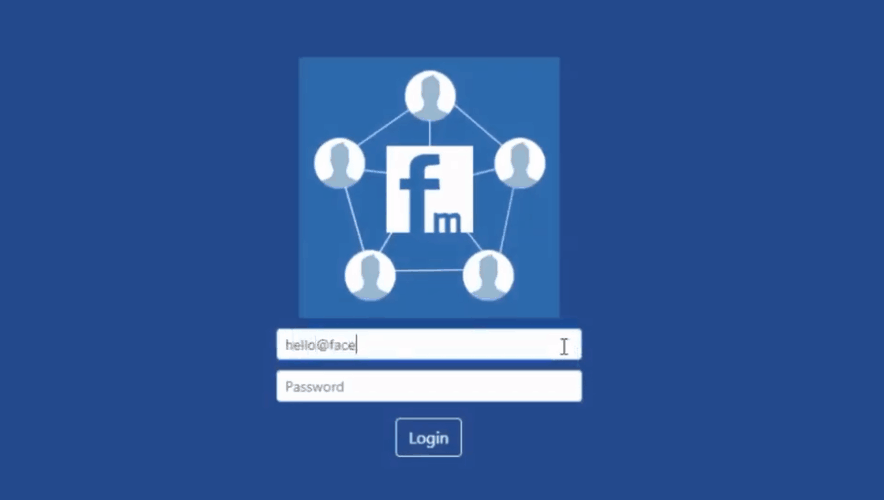 Step 2
By default, you will see a map that shows connections among a few demo profiles. If you click on any of the demo profiles, you'd be able to see their names. You can ignore this map and look for the "New Map" button at the top of the screen. Click on that button and open a new map.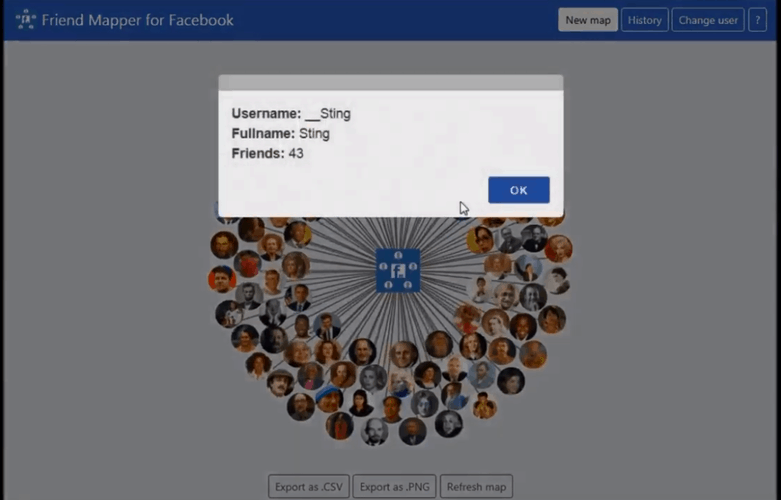 Step 3
You can choose to check one or two profiles at once. Choose the option that you want to go ahead with from the prompt. Then you will be able to see the profile usernames for the profiles. Enter those in the space provided and click "Start Map".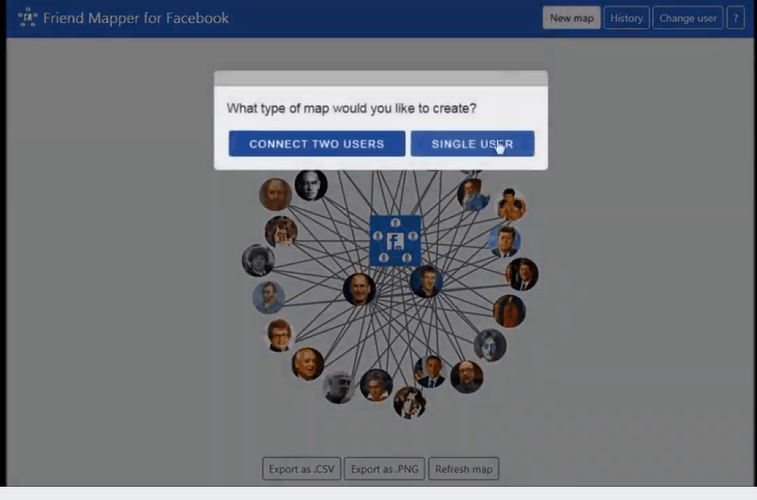 Step 4
You'll be able to see all the results in the form of a map. You can analyze the connections and mutual friends from this area.
As evident, using the tool is pretty straightforward. You just have to type the names of the Facebook accounts you wish to analyze. The rest of the work is done by the application and the algorithm.
Facebook Friends Mapper Extension
There was news about a chrome extension for the same tool recently floating around. But during our speculation, we couldn't find the exact link for the same. Therefore, either the extension isn't valid anymore or is down for maintenance. We will update about the same as soon we find out more about it.
Facebook Friends Mapper Features
The application comes with a number of features that allow you to manage your data. You can not only view the Facebook maps but also manipulate them as per your requirement. Keep in mind that the application is available for Facebook profiles only. The application has been developed by a third party website and isn't a part of Facebook's own developer tools.
More information about the application's features is given below.
Exporting Data
You can export your Facebook map data in two ways. You can either export the image of the map or simply export all the linked accounts in a CSV file. Both features are highly convenient to use. In case you're not going to integrate the data into a marketing software, the Image method will do. Otherwise, you can choose to download the data in the CSV format.
View Your Past Maps
If you don't want to download the maps, you can save them in the application file itself. The application saves all the maps you generate in the Map History section. This is pretty useful whenever you've to refer to an old map that you made earlier rather than making it again and again. All the maps are saved inside the application locally on your PC so that you don't lose them. For added security, you can upload the maps to Google Drive or a similar cloud service.
Quick Results
You sure don't want to spend hours on researching Facebook profiles. We believe you've other stuff to take care of as well. Hence, the speed of the software has been increased significantly in the recent update. Now, it takes only a fraction of time to research the whole bunch of records in the Facebook Friends Mapper.
Notifications
The app provides users with notifications for the latest updates for the app. All of these updates can be viewed from the app itself. This helps the users to update the app whenever a new update is available. The developers sure don't want the users to miss out on any features.
Facebook Friends Mapper FAQs
Have some questions on how to use the tool? We got you covered. We have used the tool extensively and we have some common questions that we must answer.
Do I need to be friends with the accounts on Facebook to analyze them?
It's not important. All you really need is that the person you're analyzing must have their friends list as public. In case it's set to private, you'll need at least one mutual friend with them. Otherwise, you won't be able to analyze the account using this tool.
2. What is the account has hundreds of connections?
It's all right if the account has hundreds of connections, you can still search for them. Although it gets difficult with too many profiles floating around, you can still use the tool. You can use the segregation tools to decrease the number of profiles you view at once. In case, they're too many, you can choose to view a little less.
3. Do I need a Facebook account to use the tool?
No, you don't need a Facebook account for using the tool. In case you do have one, you won't be able to do anything special with it. If you want to take information about the existing accounts, then you need a Facebook account. But if you know what you're looking for, a Facebook account is not necessary. Alternatively, the profiles you're searching must have a Facebook account.
Conclusion
The Facebook Friends Mapper is a pretty handy application for social marketing and intelligence. It has a clean UI and is very simple to use. The application is available for licensing for about $50 and can be bought from the website.
In case you need to search someone on Facebook and form a complete map of their connections. This is the right tool to do so. It's a noteworthy fact that the Facebook Friends Mapper is a third party application. It's not made or endorsed by Facebook and uses just the public information published by Facebook.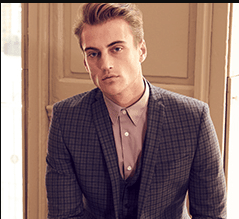 James writes SEO/SMO articles for businesses that want to see their Google search rankings surge His articles have appeared in a number of Websites. He contributes articles about SEO/SMO techniques regularly.