Looking to make a new one or simply want to get rid of the old one? Here's how to delete the Instagram account on iPhone and all other Android phones.
Instagram is one of the most popular photos sharing platforms out there that's growing at a breakneck speed to reach the billion users mark. Coupled with disappearing stories and a lot of celebrity accounts, Instagram makes up for every social junkie's delight.
But there are times when you've had enough of socializing. You stop feeling the need to upload every selfie to Instagram and you want to delete your account.
When you first attempt this, you'll notice that it can't be done from within the Instagram app. But you can do it on your iPhone, Android or Windows smartphone with the following method.
How to delete Instagram account on iPhone temporarily?
The catch is that Instagram doesn't allow you to delete your account from the app. Therefore you'll need to do it from your phone's browser, such as Chrome or Safari.
Temporary disabling will hide your profile, photos, and comments from the Instagram on a reversible basis. You can always re-login and re-enable it.
Open any of your mobile browsers and login to www.instagram.com
2. Tap on the profile icon and select the option that says Edit profile.

3. Then you'll find another option that says Temporarily disable my account when you scroll down.

4. After that, you'll be asked as to why you're disabling your account. You can select an answer from the given list.

5. Enter your password again to confirm account deactivation.
6. Tap on the button that is labeled as Temporarily Disable Account.

How to delete Instagram account on iPhone permanently?
Want to get rid of the account permanently? There is a way to do that too! By permanent deletion, you'll lose all your Instagram followers, photos, likes and comments. Your Instagram username will also be deleted and can't be used again.
Just so that you know, this process is irreversible and permanently deleted accounts can't be reactivated. The catch is the same, you will have to log in through a browser on your phone.
Open a browser on your phone and log in to www.instagram.com
Click on this link that is used to Delete Instagram Accounts.
You'll be asked to choose an answer for the question - Why are you deleting the account?
Choose an answer from the list and enter your password again.
Tap on the button that says Permanently delete my account.

Save your Instagram Data
In case you want to save a copy of the Instagram data before you delete or deactivate the account. You can do this from within the Instagram app.
Simply go to your profile page and click on the settings icon.
Then tap on the option down in the list called as Account Data.
Then use the button that says, Request Download.
Conclusion
By now, you know How to delete Instagram account on iPhone or any other phone. You can do this from your desktop computer as well by using Instagram web option.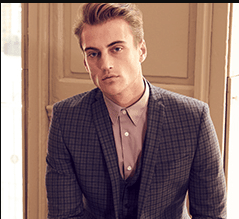 James writes SEO/SMO articles for businesses that want to see their Google search rankings surge His articles have appeared in a number of Websites. He contributes articles about SEO/SMO techniques regularly.