Lost your Instagram DM messages somehow? Here's a quick guide on Instagram messages recovery for web and smartphone! Step by Step Instructions for you.
Instagram has gained a lot of popularity since its launch and has become one of the most used apps since the last 3-4 years. 
People know instagram as an application for sharing photos and videos only.
Very few people know about instagram direct. Instagram Direct is a very useful tool of instagram that allows its users to send messages which also has an inbox just like Facebook. Users can read the previous chats and even unsend the messages or delete the chats. 
Instagram does not allow users to backup messages or any type of data. So, what if you mistakenly delete some of your important instagram direct messages? Or someone just took your phone deleted your photos and videos, what will you do?
Now, the first question that will come to anyone's mind in this case will be "Can I recover Instagram Direct messages or photos?"
The answer contrary to what most of the users think is YES. You can recover the deleted messages or photos. Instagram messages recovery is actually possible.
However you should take care that you don't use your android or iOS device after losing your data because the more you are using your device, the more are the chances of the data being overwritten. And once this happens, you may not be able to recover it.
So, if you are wondering about recovering the deleted photos and messages on instagram, this article is for you. Now, let's see various ways of instagram messages recovery.
RECOVER MESSAGES FROM THE USER WHOM YOU'VE SENT
When you delete messages from your instagram account, the messages get deleted from your account only and not from the other person's account to whom you've sent the messages. So, this means that after deletion of messages from your account they will still be available to other person. Hence, you can ask that person to send you a message . Once the person sends you the message, you'll be able to view all the previous messages if he/she has not deleted them and therefore the messages will be retrieved. 
RECOVERING INSTAGRAM MESSAGES WITH CONNECTED FACEBOOK PAGE
This is the simplest method of Instagram messages recovery in case you have a Facebook page. For this method, your Instagram account must be connected with your Facebook account. Instagram has an option to login with Facebook. Login to Instagram with your Facebook account and follow the following steps.
STEP 1  Log in your Facebook account and open your Facebook account.
STEP 2  Check your Inbox.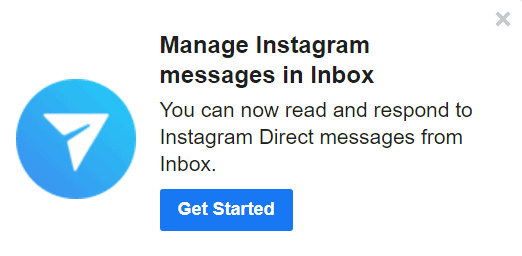 STEP 3  On the left pane, you will see Instagram Direct. By clicking on that, you will be able to view all the conversations.
RECOVERING DATA FROM INSTAGRAM DIRECT MESSAGE RECOVERY WEBSITE ONLINE
There is an online tool which makes instagram messages recovery possible. The developer of the Instagram messages recovery site previously worked with Instagram. Hence, there is a very high probability of this site being able to recover the messages. However, this method does not guarantee the recovery of your messages. The steps to use this method have been outlined below.
STEP 1. Visit the Instagram messages recovery site by following this link - https://assisttechie.com/ig_msg_rec/ 
STEP 2. Enter your Instagram username and login to your account.
STEP 3. After signing in to your account, click Recover Messages.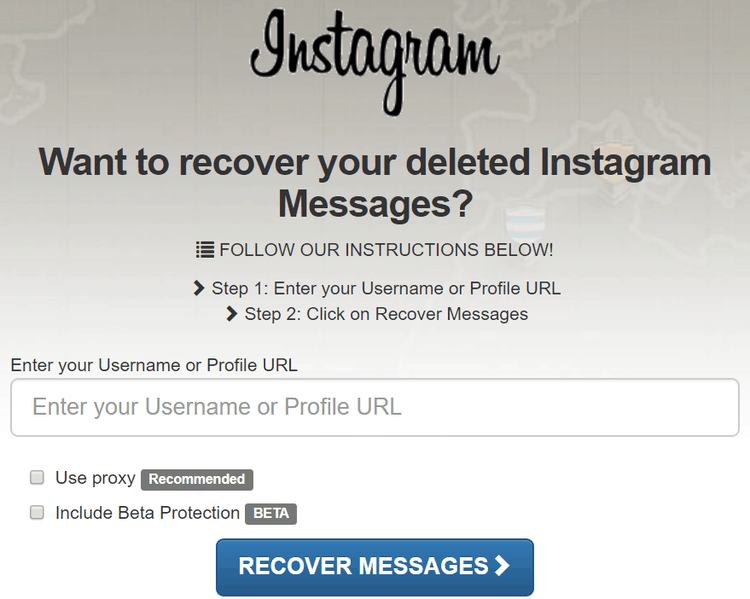 STEP 4. Finish the human verification to prove that you are a human and not an automated bot.
STEP 5. After completing human verification, the site will now scan your instagram account and will locate your deleted messages.
STEP 6. You can now recover the deleted messages in the form of a zip file.
Note - Although this a free online messages recovery site, but it has a lot of bugs. Sometimes, the site fails you in human verification, gives a network error, often some ads pop up. So, overall it is a very slow recovery process.
Also Read: Unique Instagram Username Ideas 
RECOVERING INSTAGRAM MESSAGES WITH A SOFTWARE
There are a lot of third party softwares available online or in the form of apps  on the app store in iPhone or play store in Android. These third party apps help you in recovering your lost data, provided that the data is not overwritten. 
Third party softwares are very easy to use. All you have to do is install them on your PC or Mac and launch them. Then you just have to follow the onscreen instructions.
These softwares usually run on a subscriptions but you can opt for a free trial version. But to access all the features, you will have to purchase the subscription.
However, these third party softwares are not reliable and secure.
RECOVERING DATA FROM INSTAGRAM DATA DOWNLOAD FEATURE
Instagram has a feature that enables users to download instagram data including photos, videos, comments, profile information, messages and more. This feature allows instagram messages recovery for those direct messages that are currently open. This means that this option will work only if the person with whom you are trying to recover messages is still in your direct messaging list.
Also, it works for only one request at a time and it may take upto 48 hours to collect the data and send it to you.
Follow the following steps to recover your lost data from instagram by using the Data Download option.
STEP 1. To use Data Download feature, you will have to use instagram on either a PC or a Mac. Open https://www.instagram.com/ and log into your instagram account with correct password.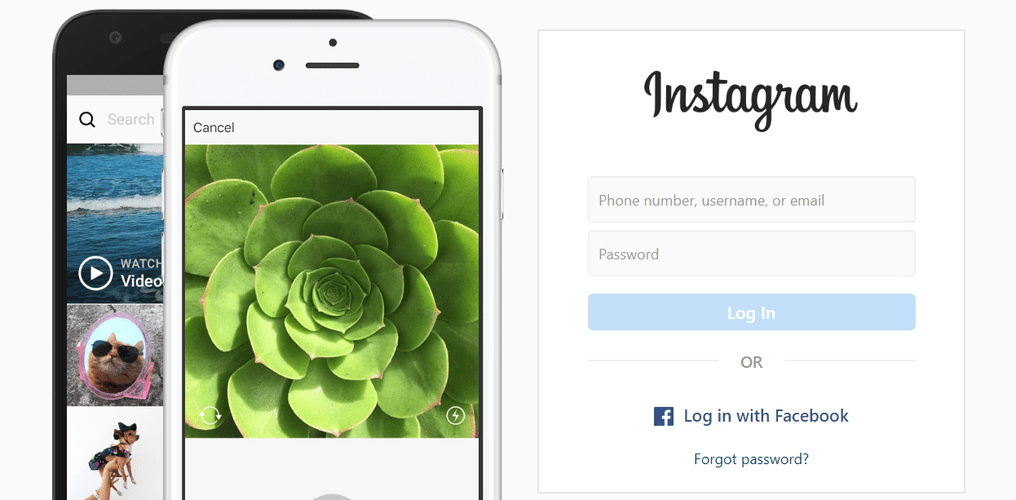 STEP 2. On the upper right corner, click the Profile icon.
STEP 3. Visit Account settings and select Privacy and Security in the pop up window.
STEP 4. On scrolling down, you will find the Data Download option. Click on Request Download button.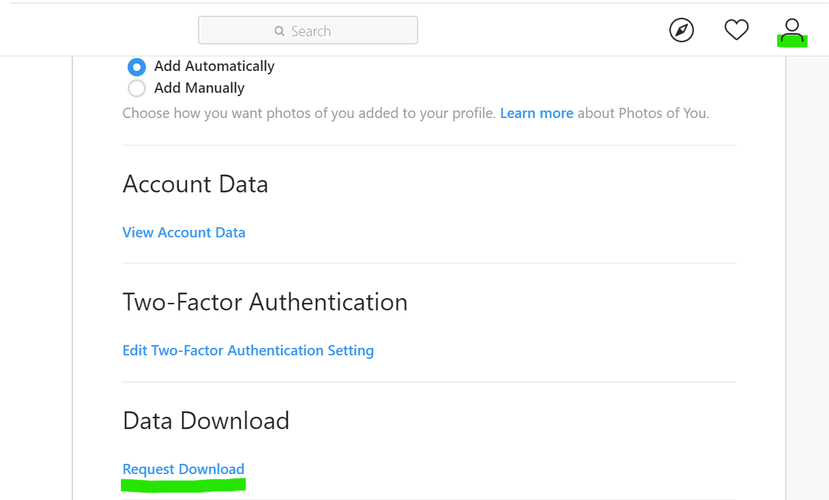 STEP 5. Now enter the email address linked to your Instagram account to receive a link  to a file with your instagram data and then click Next.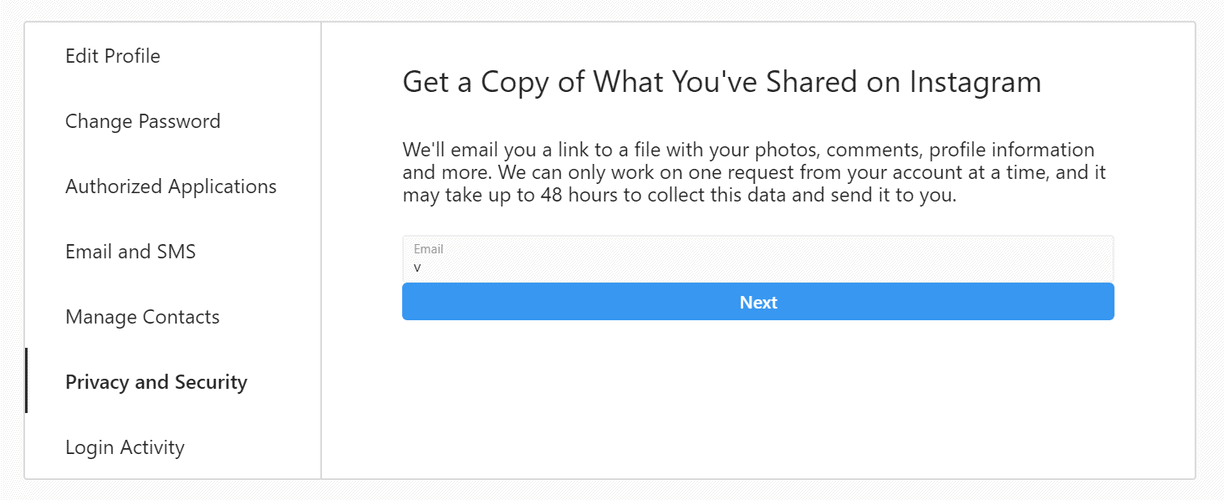 STEP 6. Open your email address. You will see a link to download your instagram data in the form of a zip file.
STEP 7. Extract the Zip file.
STEP 8. Locate messages.json and open it with a compatible computer application. You can now search the required messages by typing the username of the individual in the search bar.
The Data Download feature will also enable you to retrieve deleted photos or videos. After unzipping the ZIp file, you can explore to find the deleted photos and videos.
INSTAGRAM ARCHIVE FEATURE
This feature was launched by Instagram in 2017 which enables users to hide the pictures they do not want others to see. There is a chance that you may have archived a picture and forgot. So before getting worried, check your archives to see if you can find your picture.
STEP 1. Login to your instagram profile and visit your instagram profile page.
STEP 2. You will see a clock icon with a counterwice clock arrow on the top right corner. Click the icon.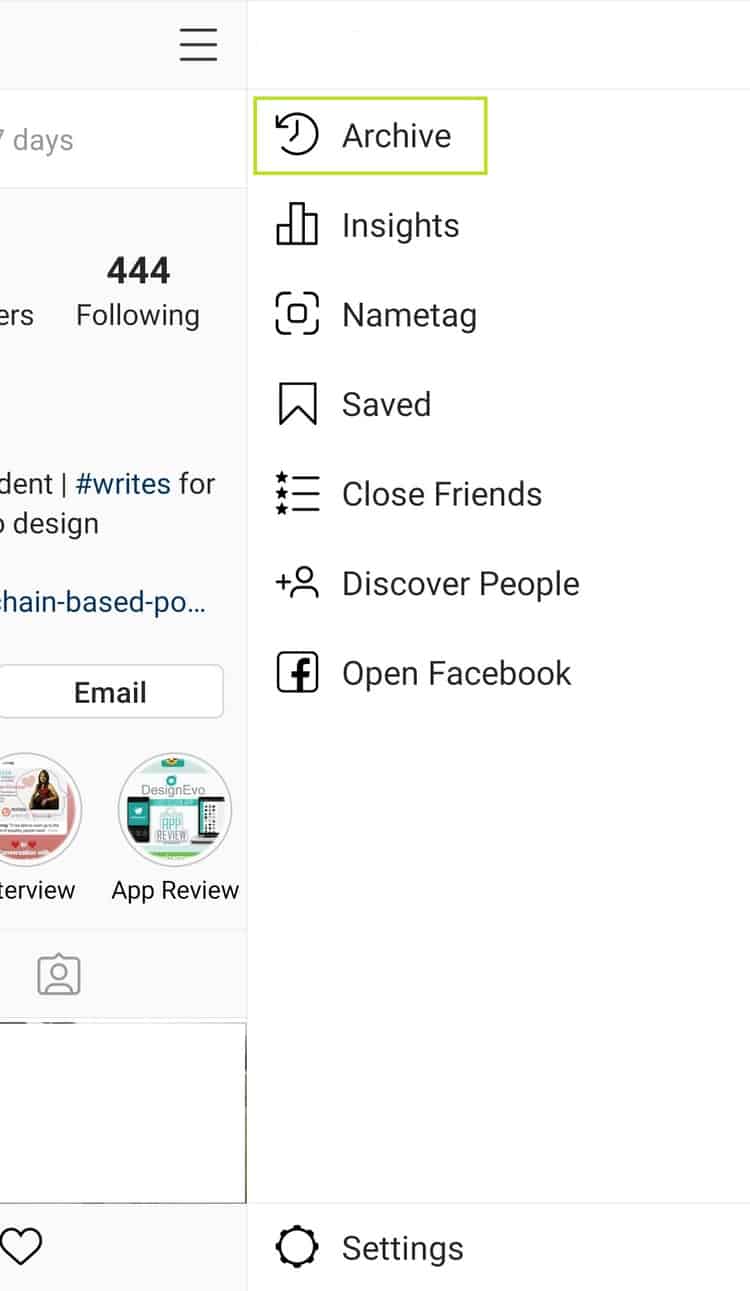 STEP 3. You will now see the archived posts. If the picture is in the archived posts, you can unarchive the post tapping the photo and then selecting the three right dots on the top right corner.
STEP 4. Choose Show on Profile.
FAQs Related to Recovering Messages on Instagram
Can I import my recovered messages in my new Instagram account?
It's a much anticipated feature but right now this isn't possible. You can only recover messages using one of the above options. Most options provide a way to get the raw message data to you. There's no way to import the data or reinstate the messages back to Instagram. 
Can I also recover the photos that I sent in messages?
It's difficult but you may actually be able to recover some photos present in your Instagram Direct Messages. It depends if Instagram has backed up your photos in their messages. For most users, the photos are not backed up but some users were able to recover their DM photos.
It would be the best to reach out to Instagram help center for this purpose. They can help you recover any lost photos in your account.
Can I self back up my Instagram messages?
Yes, this is possible. If you're worried about the fact that someone might delete your Instagram Direct Messages, you can manually back them up. There are multiple ways of doing this. You can take Instagram data back ups from time to time, or you can use a long screenshots tool to take backu of the entire conversation at once. 
This way, there's a hard chance you will ever regret deleing Instagram Direct messages.  
Conclusion 
Given above is the detailed description of instagram messages recovery. You can also download the deleted photos and videos in your computer via these methods. If any one of the above stated methods fails to work for you, you can always try another method to recover your deleted photos and videos. We have tried all the methods while creating this article but if any method fails for you, it may be because the fast changing nature of technology.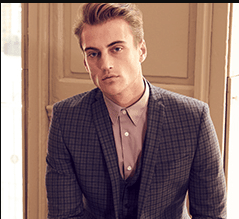 James writes SEO/SMO articles for businesses that want to see their Google search rankings surge His articles have appeared in a number of Websites. He contributes articles about SEO/SMO techniques regularly.