Links are important for a business to direct traffic. You will find 5 distinct ways in which link sharing is possible.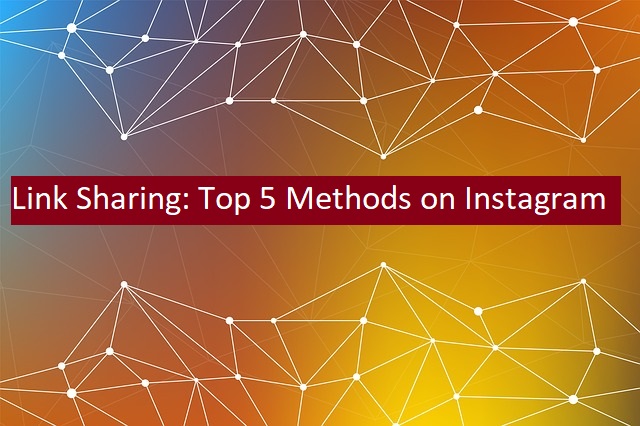 Link Sharing in Bio
Start off with the most straightforward way to post a URL. The 'bio' section on Instagram is visible to anyone, so everyone can use it for link sharing even private accounts. Bio allows you to share an active link. Your link in bio is actually a "home" link which mostly should direct people to your site. There are more ways to distribute clickable links, but they are targeted to a more specified audience. The Bio link is for all visitors to your Instagram profile. Some experts recommend you provide a link to the home page of your website in the Instagram bio only. Some brands regularly change their links to the latest content of their posts.
Story Links
Often, changing website connections and links is a hidden thing. What about old posts? If someone found an interesting post from half a year ago and navigates to your Bio for more information, but boom! a different link leads to disappointment. It's time to stop confusing followers, you can try sharing shortened URLs to your Insta-stories. Stories have a short life but you can keep this content available by creating permanent highlights of stories with hyperlinks. You can use the bio for link display service.
Insta Button with Link
You can generate an Insta-clickable button in different shapes. The default link service buttons look just like the Link Tree. Here you present your followers a row of buttons that they can clink. You can also select a theme that can match the aesthetics in your Instagram branding. Make sure you label the Insta-buttons right because if users find something very different, they can lose trust. The excellent reference uses a permanent colour palette for IG posts and link tree pages.
Photo Grid
There is another link-sharing service that is native to the local Instagram experience. Users view an IG-style photo grid. After tapping the image from the Insta-grid that initially captured attention, they are directed to the linked page of your website. In the PhotoGrid you can add Bio, video links, and shopping integration. You must always be aware that such links can consume a lot of your data. Test the link service to ensure that it works on mobile devices and that URLs are valid.
Post Captions- Yes!
I very well understand that clickable links don't work in the headlines of IG photo posts. That doesn't mean captions on IG are useless! Use IG captions to get users' attention, share content to increase your reach through impactful hashtags. Whether you're using a URL anywhere, make it clear and concise. You can use a tactic here, first, divide the links or generate short URLs. This will help you add a short link that people can copy. Users have the ability to replicate the link from the post title for searching a webpage. Some brands may prefer to include direct links to Instagram stories.
Swipe Up Story Links
Stories are short, so they're an impatful way to share links to up-to-date content. Think about season sales, limited-editions, product promotions, season events, or question and answer sessions.
Highlights
Use library highlights for perpetual content: Frequently Asked Questions, and best products to show what they've missed. Highlights make your stories immortal and so are powerful weapons that can be loaded with creativity. Viewers don't have much time to focus on general stories in 15 seconds so they move on, so clear the CTA crystal also try these:
See more links with highlighter tools.
Use stickers, doodles, emojis, and GIFs to identify links.
Add an image or selfie of someone on your staff pointing to the URL.
Link Sharing Warning
Here's a warning!  Instagram firmly controls story links. You cannot have it unless you have more than 10k followers. Celebrities can access it with a verified account. Instagram restricts the story links purposefully as it prioritizes follower counts. You can focus more on sales than followers if it works fine.
There are brands that don't have the swipe-up link but they don't need it. Instead of crying and buying followers, they use posts, infographics, and creative screenshots to lure users elsewhere. There is evidence that internal connections can also be of use. Publish stories that connect to IG posts, IGTV or other people's related posts, and accounts. A tip: In case you coordinate with some brand or maybe some Instagram influencers, there is a very high chance of increasing the number of hyperlinks.
Shoppable Posts
Every shopping tag is associated with only one physical product. Such purchase enabling tags are targeted exchange. If you want to use 'shopping tags', you'll need to make a catalogue of your products or services on platforms like FB. Set a complete catalogue along with purchase links, and photos, so you can begin by incorporating shopping tags into business IG posts. The "shopping tag" will be visible to you if you click on profile. The easily visible Shopping tab allows standard charges for your profile. Visitors can make the link work by clicking as it displays a list of your entire product. Buyers can simply click on the item they want to buy from the Items on a grid. IG Insights enables users to check the engagement level on each shopping posts on factors such as engagement, reactions, or savings. Instagram Shopping doesn't include attribution to personal product URLs. You can try adding tags to URLs in the product list. Some brands access app shopping. Through it, users can transfer payment for items anytime without Instagram. Since the β-version is attracting brands, the initial tests seem to have succeeded.
Conclusion
There are chances that IG will remove shopping tags to favor inside app checkouts. Why? Well, this is because keeping business in the app gives IG better control over the data and the possibility to increase profits. Stay ready for further changes in how users react to the product and link sharing on Instagram as you need to be proactive.
Your blog needs a word artist and psychologist, guess what? I'm both!
I apply my expertise in getting diverse projects done that require creativity and writing skills.