Sprout Social is a social media management application that helps users "establish and maintain deeper relationships on social media." A recent IPO garnered almost $150 million for the firm, which is now publicly traded. Its mission is to enable companies of all sizes to build real connections with their consumers. Around 3.03 billion individuals use social media, according to Hubspot. Fifty-nine percent of Americans feel that social networking makes it simpler for them to address their difficulties. As a result, companies must make social media management a priority. When using Sprout Social, you can easily manage several social media networks from one location.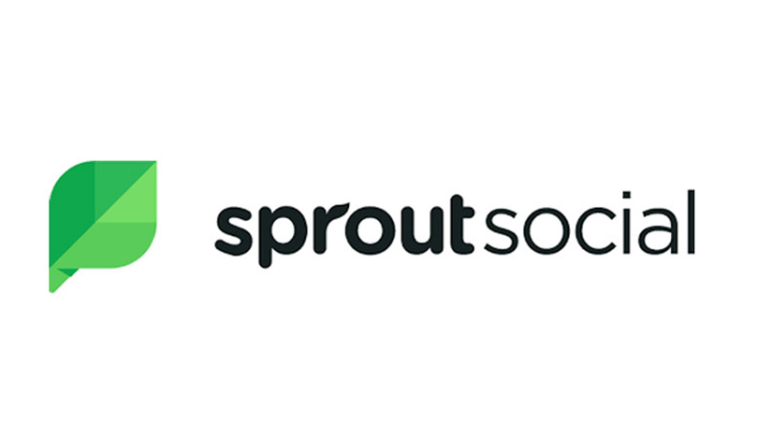 Sprout Social Plans
Basic/standard plan
Social media managers of small and medium-sized businesses will find the Standard plan to be a fantastic alternative. Anyone with too much on their plate would appreciate managing up to five different social profiles in one location, which saves time. If you choose this plan, let Sprout Social take care of the rest by creating, scheduling, and prioritizing posts for each network.
Rate: $99/month for 1 user
Professional plan
The professional plan is appropriate for social media managers who need to maintain 5-10 social profiles. However, even while the Standard plan is suitable for smaller businesses, larger companies will benefit from competitive reports, scheduling at ideal times, trend research for Twitter, and more with the Premium. This plan may be for you if you feel that the advantages are worth the additional expense.
Rate: $149/month for 1 user
Advanced plan
The costliest of the three Sprout Social subscriptions costs $249 per month per user and includes everything that the Professional plan offers, plus chatbots, custom URL tracking, Twitter polls, and more. The other two plans are $1. It may be the best option for you if you work for a large firm or require the extra features of a social media manager for a small company.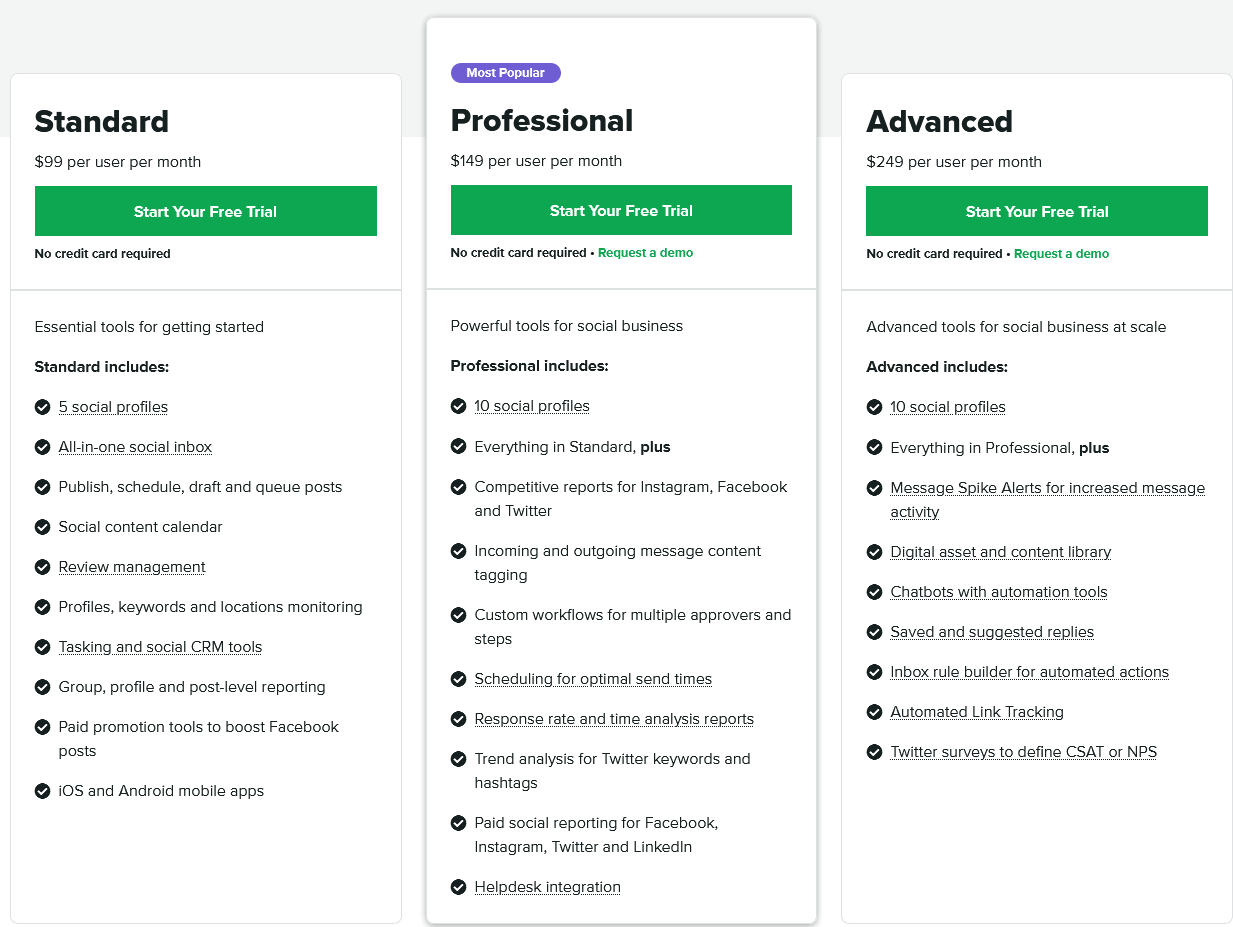 Features of Sprout social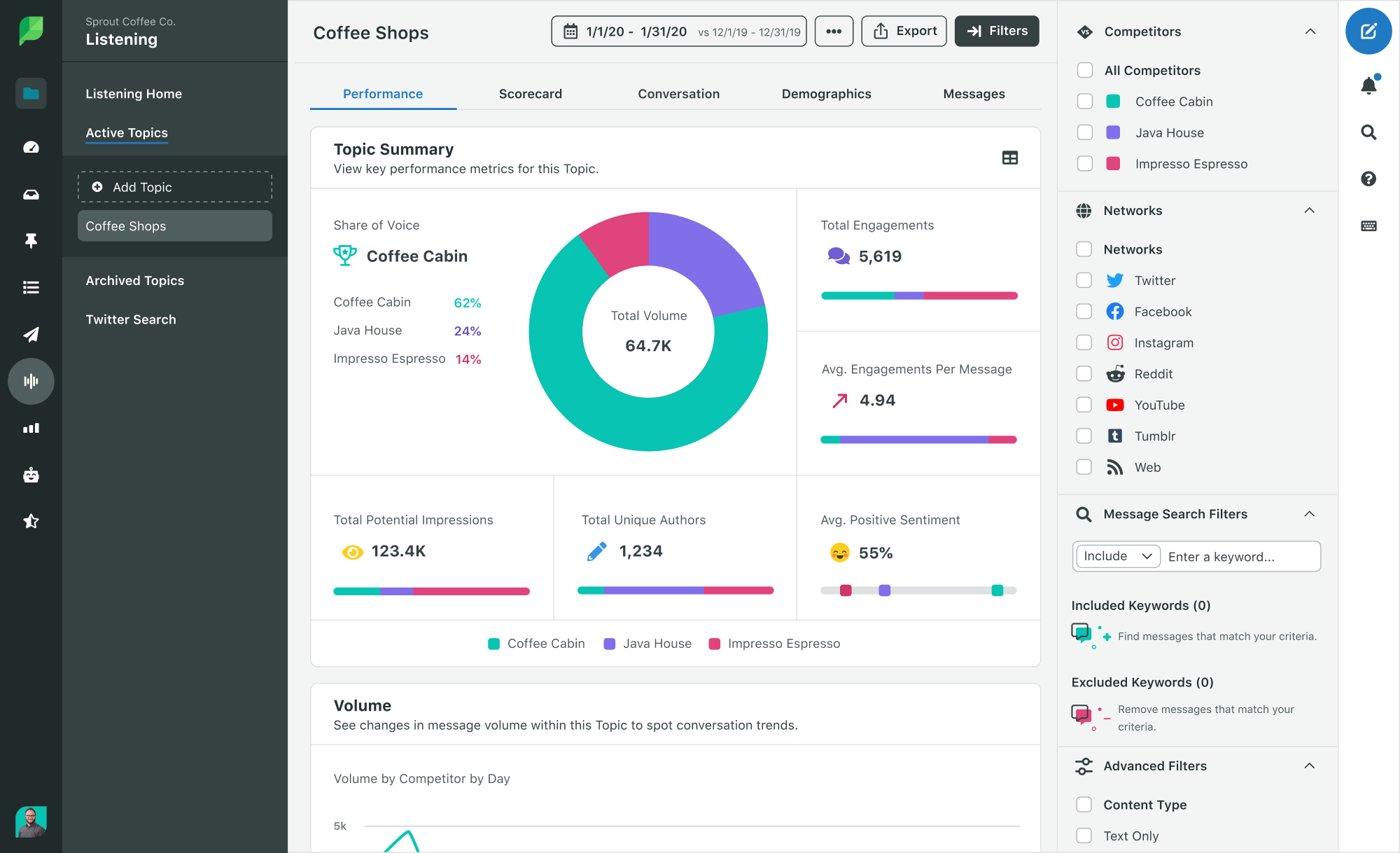 Scheduled posts for each social media platform
Schedule posts for Facebook, Instagram, and Twitter at once to save time, but be prepared to modify the material for each network. The hashtags on Instagram are essential, but connections to your website should be included in Facebook and Twitter. Create personalized posts for each network without having to copy and paste material again. With this Sprout feature, you'll have a more Recurring Events + Duplicate feature.
You may make a post for Instagram using hashtags and then click Schedule + Duplicate to have the post immediately reopen in your Compose window with any content and attachments. From there, choose your Facebook Page, modify the post as you like, and send it out! This will allow you to schedule the same message across numerous Twitter profiles rapidly.
You can also schedule your posts using Sprout'sSprout's extensions. The Sprout plugin for Google Chrome and Firefox allows you to share a link whenever you encounter an intriguing piece of material while working in these browsers.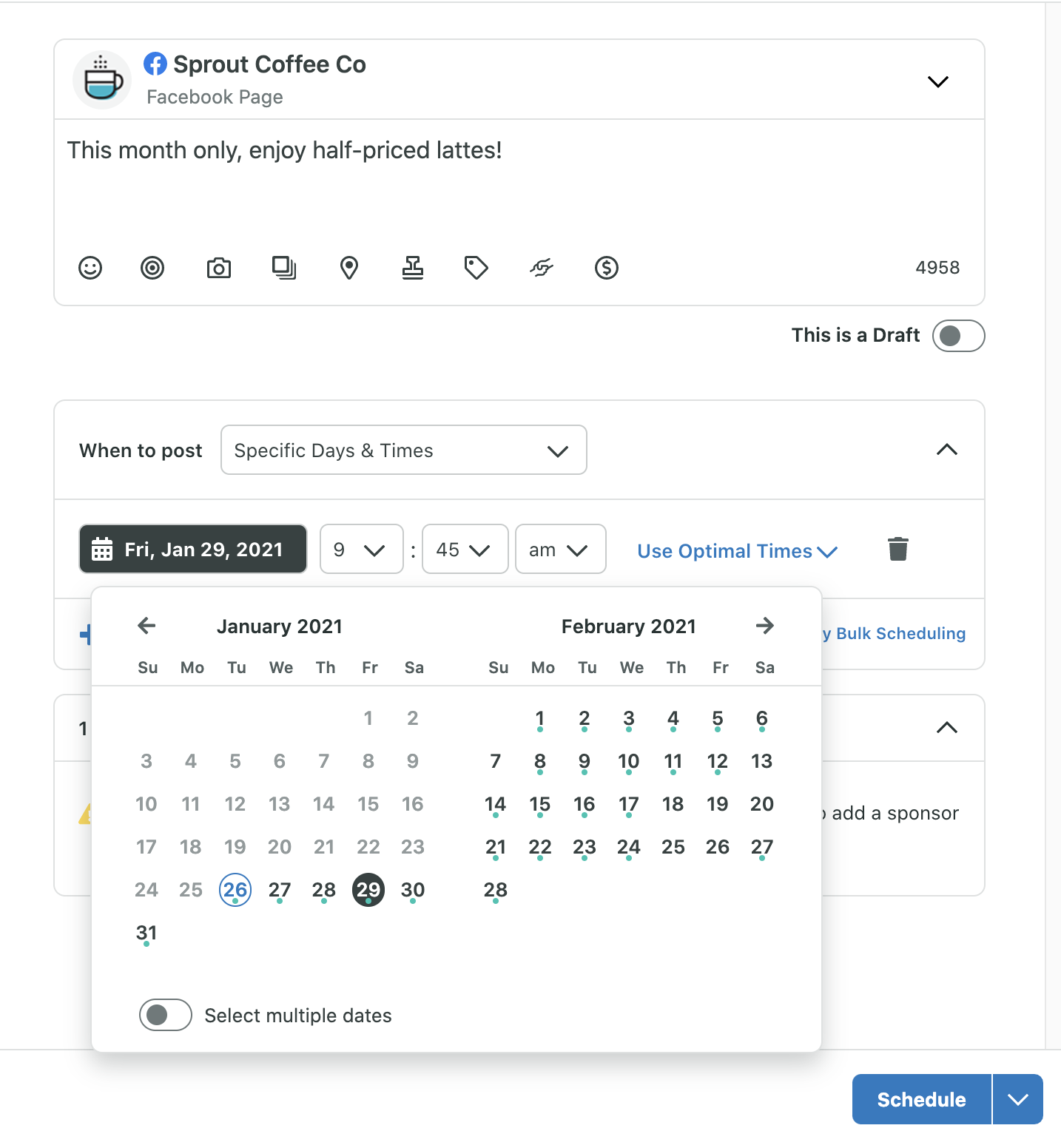 Failed messages notification
The native networks may reject a post due to transitory server problems or formatting concerns. Enable failed message push alerts in the Sprout mobile app to ensure that you don't lose any of your carefully chosen material.
Set a time to post
If you don't have any help optimizing your calendar, finding the optimum times to post for your target niche or social network isn't always easy. There is a new feature in the Compose box called ViralPost, which highlights Optimal Send Times. Unfortunately, this feature is always available in the Professional and Advanced Plans to make scheduling easier.
If you're looking for a straightforward and easy-to-use platform, Sprout Social is the way to go. It allows you to schedule material in advance. You can efficiently distribute content to numerous social media sites and modify social pictures right from the platform with a simple click.
Search operators
You'll undoubtedly want to check out Sprout's Brand Keyword function if you haven't already.
If you've previously put up Brand Keywords, you may still improve them using Search Operators. Using the "OR" function, you can increase the searches on your website since people often confuse the names of brands and services.
Message tagging
Sprout's Professional and Advanced Plans include Sprout's Message Tagging functionality. You can personalize your outgoing and incoming message monitoring to best suit your social media goals with this feature. The number of critical comments and favorable comments on a given post, for example, maybe tracked. A campaign's response rate can also be tracked. Additionally, you may track which posts or sorts of postings are doing the best, in addition to incoming messages.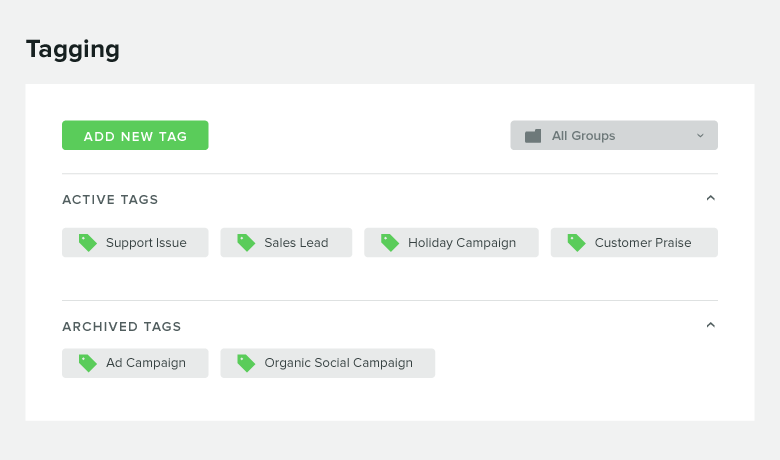 Responding to ad comments
In order to engage their consumers, several social media marketers are generating ad content. Once you've established your advertisements, you'll be able to reply to incoming comments on these Facebook and Instagram posts. It's possible to link your Facebook Ad Account in Sprout so that you may engage with your ad comments along with the normal comments.
Preview Instagram grid
If you're posting to Instagram using Sprout's mobile app, you can preview your grid before posting. You need to have a Sprout account to use this feature.
Analyzing data
It's hard to assess the impact of your social media activities on a brand without studying the numbers. In addition, it might be tough to determine how and where to grow your audience. If you want to make the most of your social media marketing efforts, Sprout Social collects competition information and cross-network reports, among other things.
Conclusion
In several evaluations, the price of Sprout Social is listed as a negative. However, many users feel that automatic posting, brand tracking, and reporting, and analytics capabilities are worth it. It is a beneficial tool for those who handle social media regularly or manage it for longer than usual. When it comes to managing social media, Sprout Social is a vital tool, whether you're in control of a huge organization or a small business.