Instagram fever is catching on! Take a look at the top Instagram Filters for 2019 to make your photos come alive like anything!
One thing that has uniquely revolutionized smartphone photography is the use of in-built filters. These filters allow the creation of stunning images with a touch on the screen. You can add artistic effects, improve lighting and add overlays that render beautiful photos.
Instagram too started as an app with pre-built filters. It offers some creative filters that can pump life into boring photographs. These filters put the power of professional photo editing in everyone's hands. You can quickly edit a photograph by trying a few filters on it. It just takes 2 minutes to edit a photo on the phone that might take a professional, hours.
The rise of camera oriented smartphones also prays a crucial role in the popularity of Instagram. Because everyone wants to look good, more and more camera phones are on the market.
Are you too looking to make a statement with your Instagram uploads? We have put together a guide on the best Instagram filter and top 10 Instagram filters. This will help you get stunning previews of your uploads. You can quickly try on these filters to check your photos before uploading. This will save you time, as well as, reduce the effort of using 10 different editing apps.
Top 10 Instagram Filters in 2019
Clarendon Instagram Filters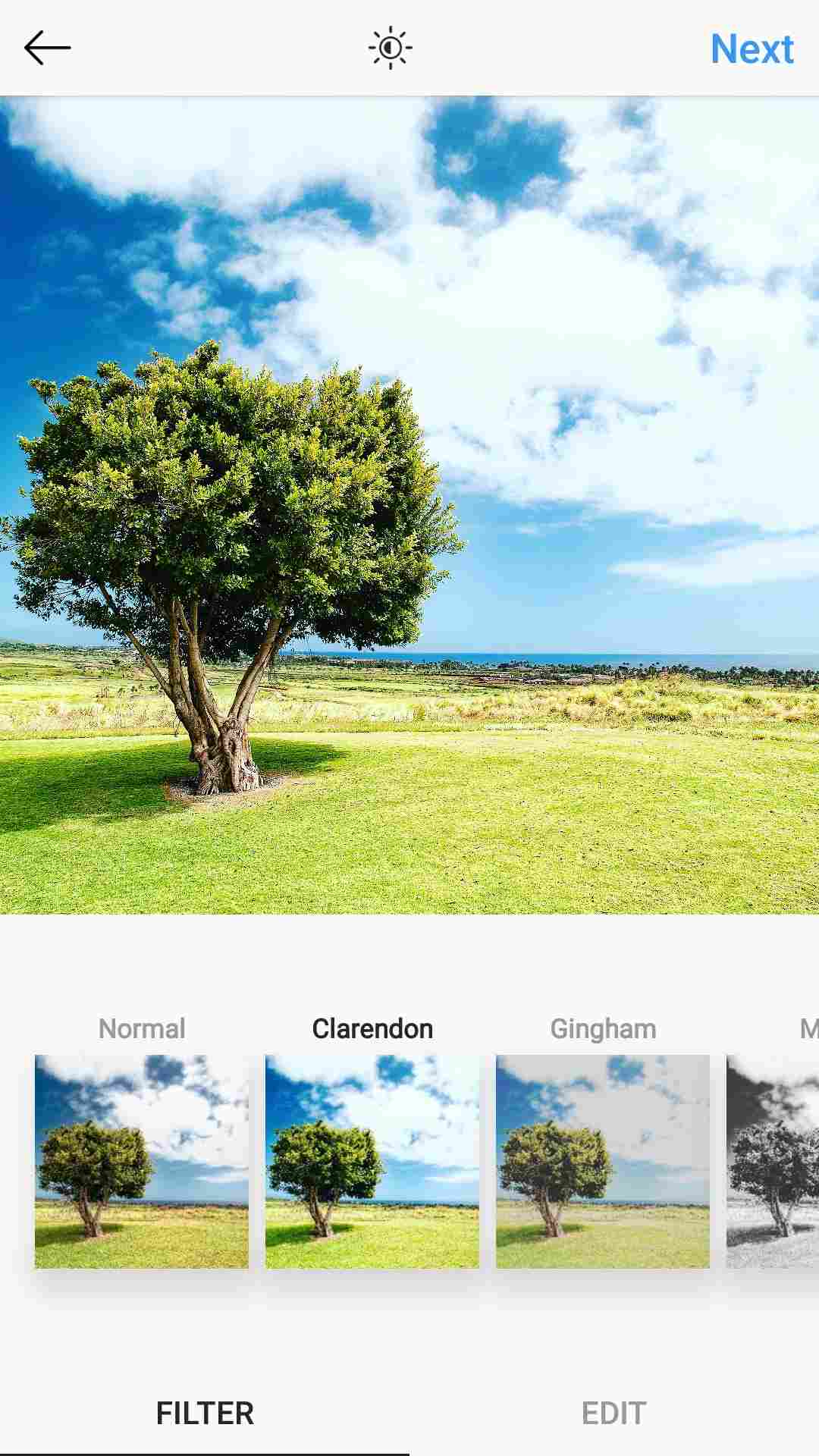 Clarendon provides a fresh feel to the photo by boosting the light areas and pumping color. If you have an image that has been taken in low-light, you can improve the visibility using this filter. It also works well for photos with high contrast as it evens out the overall color gamut. Best use case would be photos with dull colors or indoor lighting that is insufficient.
It is the second filter in the Instagram carousel and is a must try.
Lark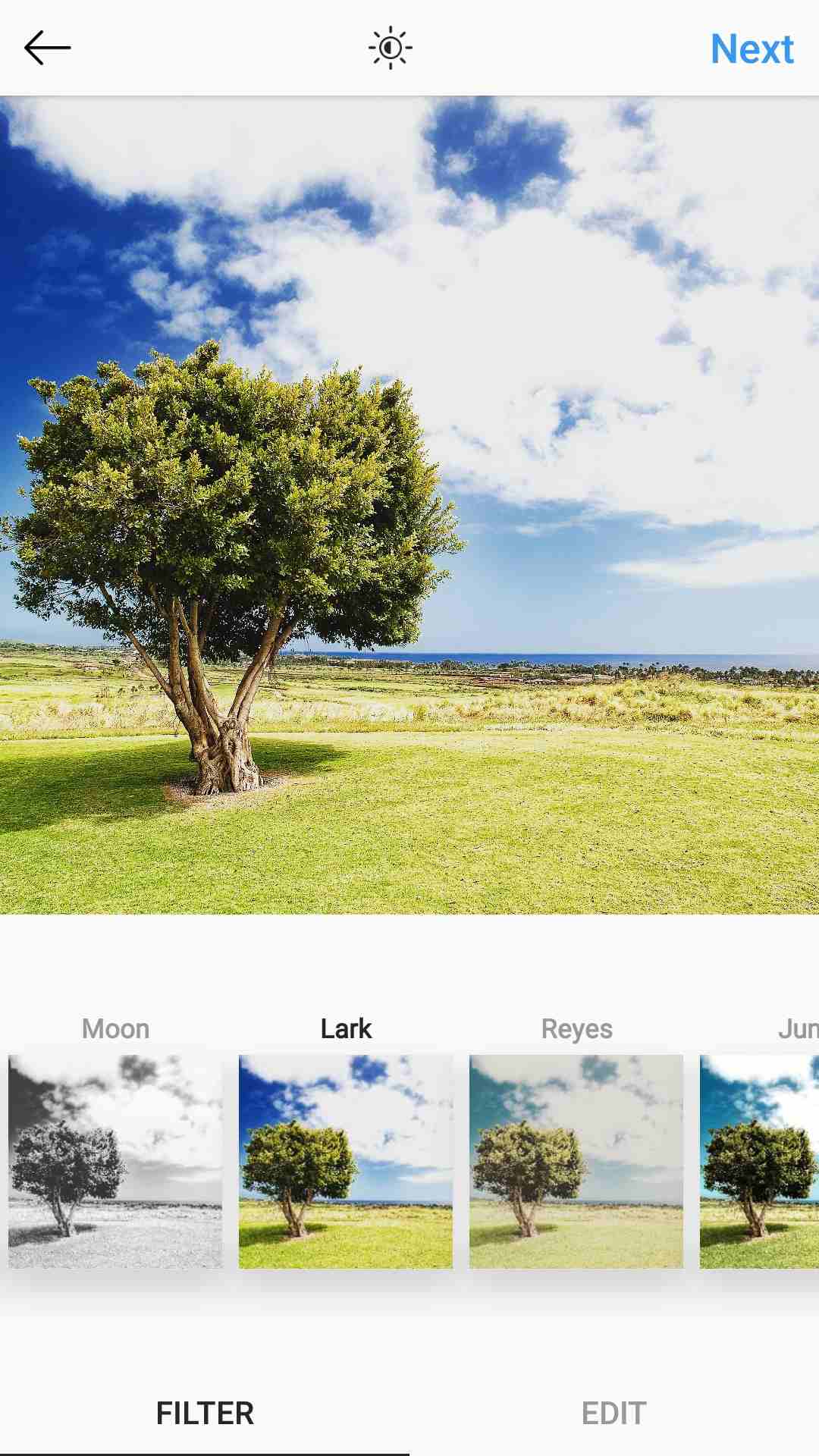 Lark adds a touch of purple tint on the photos while increasing contrast. You will see your photos getting darker and the hue will shift towards the left. It's is good for bright outdoor shots with heavy lighting. It'll even out the extra light and kill the extra light. You can adjust the saturation levels by managing the effect intensity.
The effect is suitable for pictures with blues and greens. Particularly, landscape pictures and grassy outdoors.
Juno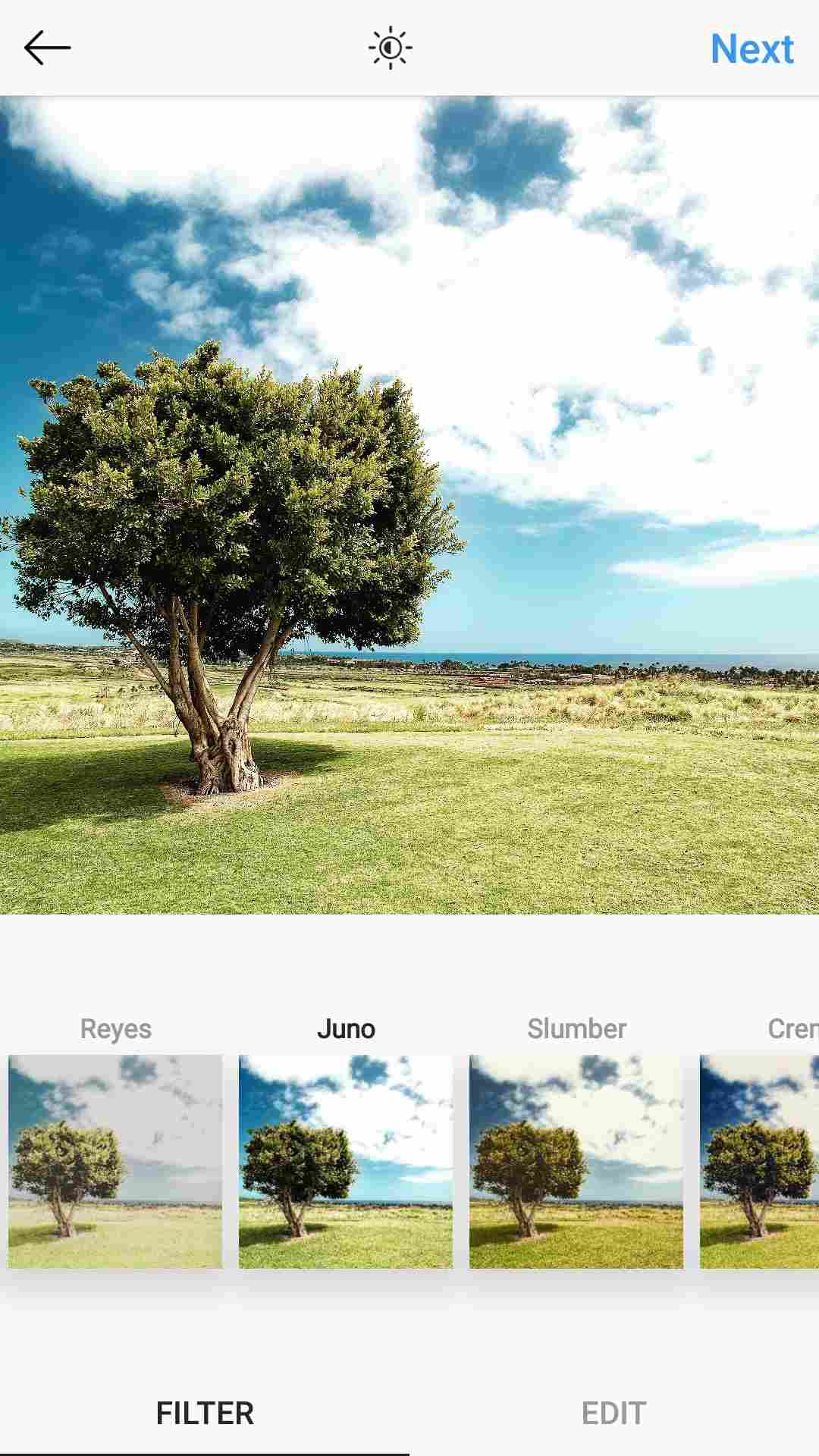 The Juno filter as you can see works mainly on the contrast of the photo. It increases the brightness and contrast of the photo. A little punch in the reds and the yellows, shifting the hue to the right. The filter works well for a subtle retouch of the photo with still life shots. It'll put the focus on the central objects rather than surroundings.
Make sure you correct the colors after the filter application. It kind of dulls down the colors a bit, which may not suit your requirements.
Perpetua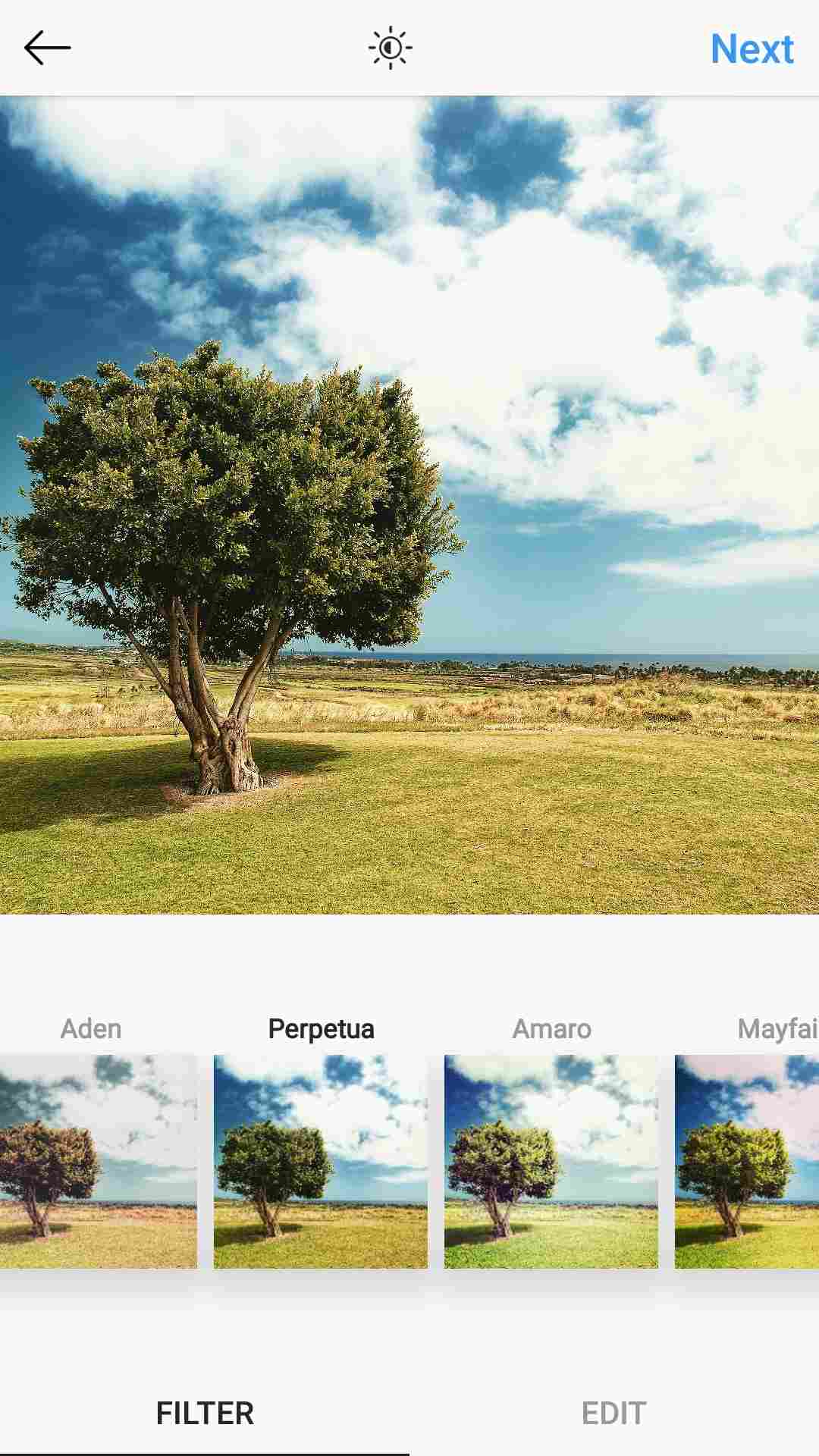 Perpetua is a vintage feel filter with a brown tint and punchy green color. You will get an overall hike in the saturation levels with a darker contrast. The blues also get a mild toning in comparison to the brows.
We suggest you use this filter with evening shots, where it'll enhance the mild yellow of the sun. The image may require a retouch of brightness. You can choose as per the lighting levels of your picture. Rest it is one of the must use Instagram filters for evening shots.
Mayfair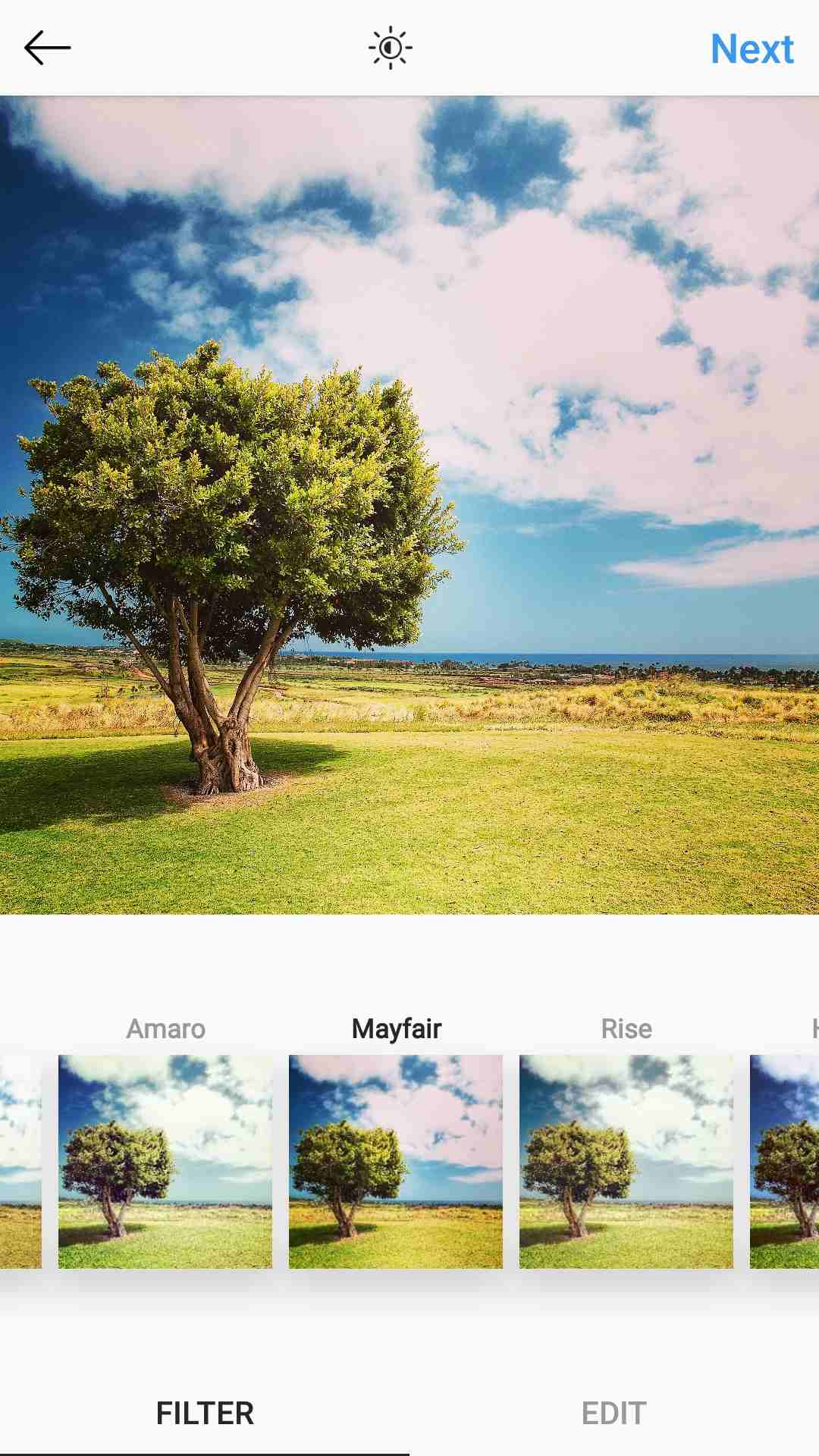 Mayfair is a specialized filter and also the best Instagram filter for selfies. If you carefully notice, the filter adds highlights the middle of the picture. The central portion of the picture usually has your face. You'll get a sweet glow around face, making a boring selfie come alive.
You can also use the filter for other objects in the picture to highlight them.
Lo-Fi Instagram Filters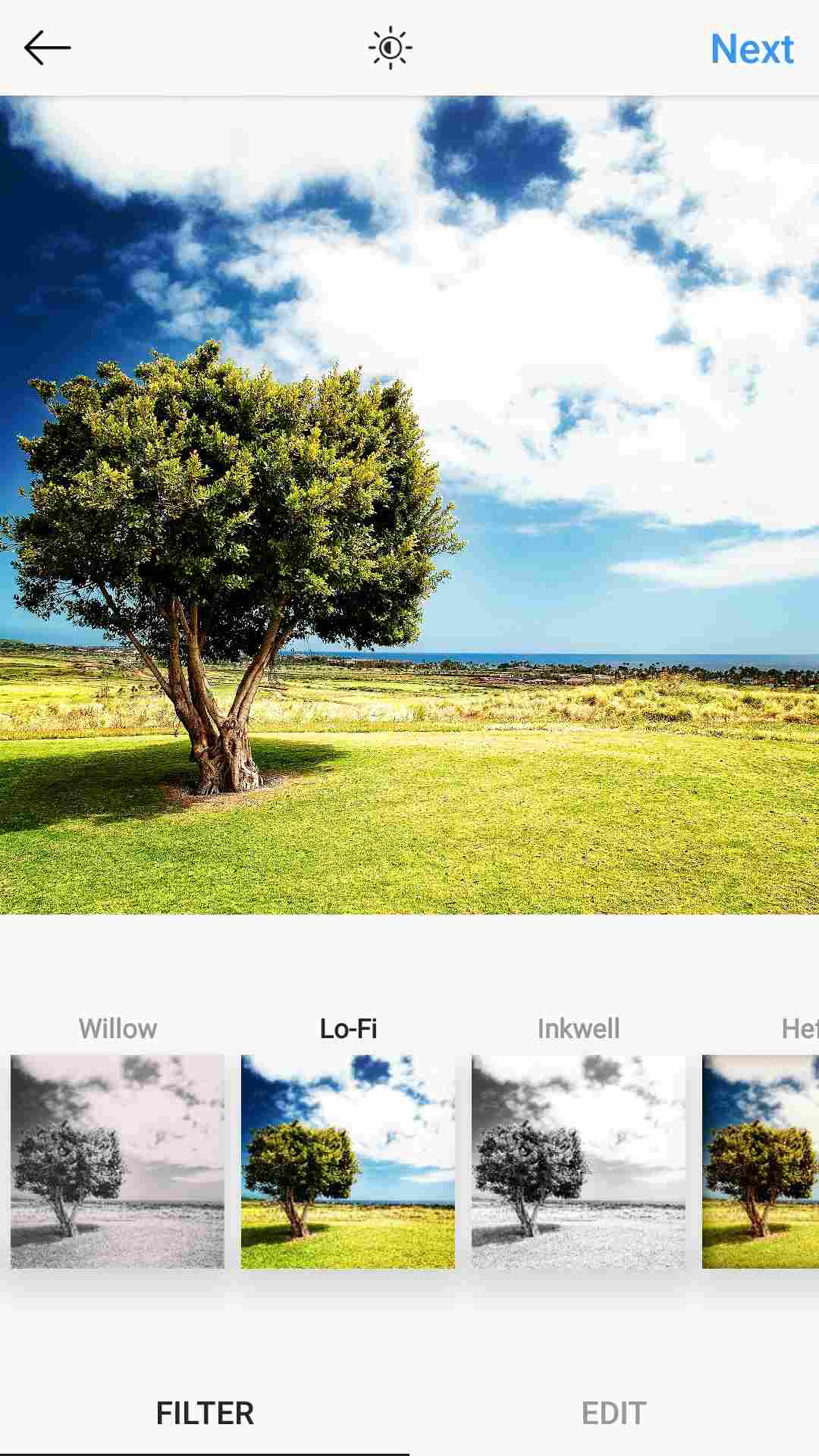 Lo-Fi is your go to option for quickly turning all the adjust options upwards. The filer amplifies the saturation, light, contrast levels and shadows all in once. If you're clicking in hazy conditions, or the camera isn't catching colors. This is the best filter to go to. You might have to reduce the brightness later to maintain balance. We recommend using the filter for low light conditions. It's meant to be used wisely, as the colors can be blown out of proportions.
Still one of our favorite Instagram filters for color correction of all types.
Instagram Filters Online
Many of us like doing the photo editing work on our PCs. This calls for an Instagram app for PCs which does exist but doesn't have filters. Therefore, we found out a solution that works on PCs using the Insta Editor online. It's a simple application that allows you to add Instagram filters to pitures. You can upload photos from your PCs and quickly add all kinds of Instagram filters to it.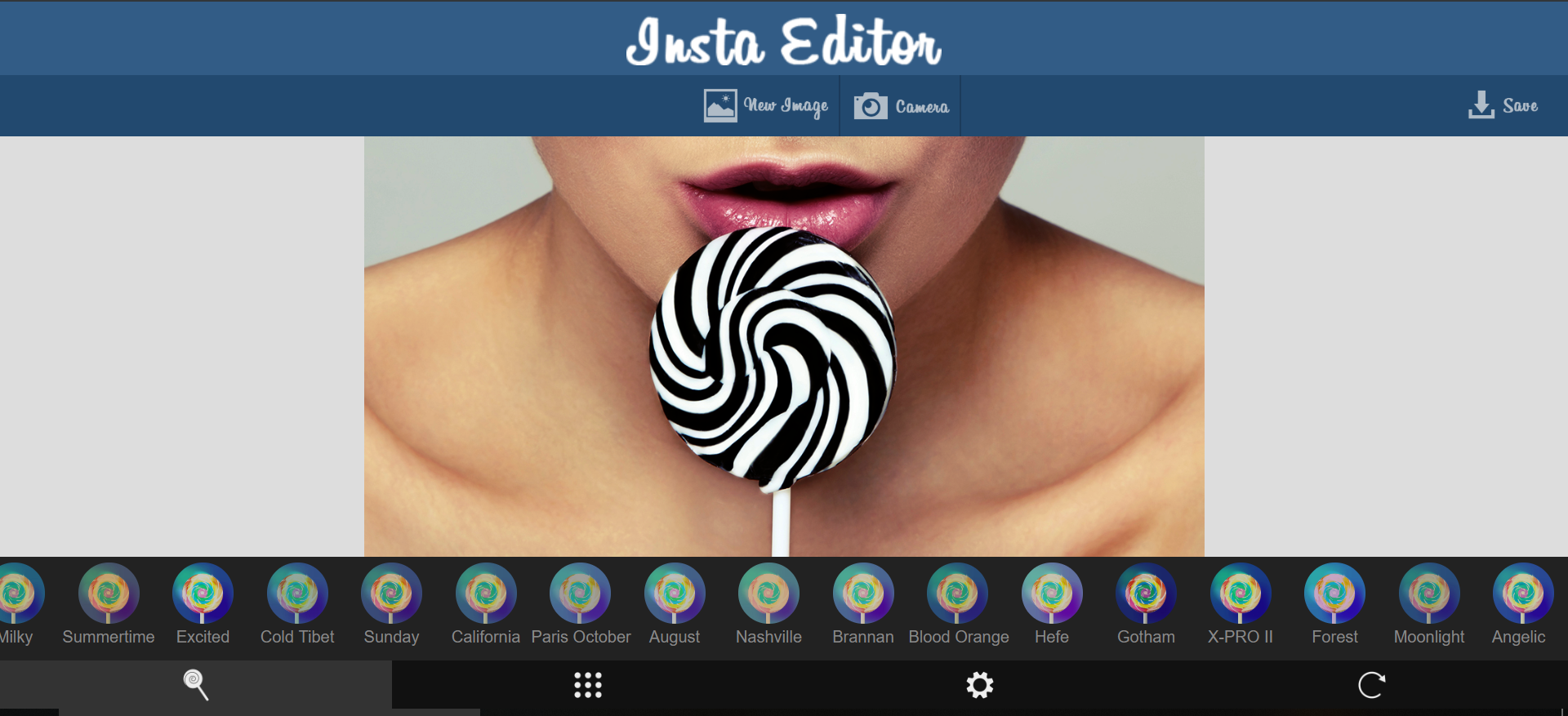 In addition to the filters, you can also use the editing features. Editing options such as Vignette, Brightness, Tilt Shift are also available in the online editor. It's a great option for people who don't want to switch pictures between phone and PC. Simply upload a photo from your PC and get going.
Instagram Editing Apps With Instagram Filters
These days, Instagram's editing features are simply not enough. Marketers and photography enthusiasts require advanced editing. As the Instagram becomes a competitive place for photo sharing, new players have to enter the battlefield. Therefore, a number of Instagram editing Apps have entered the market.
These Apps provide a number of ways to edit your pictures and make them Instagram ready. They offer advanced Instagram filters and editing that can't be packed into the Instagram's official App. You can use these apps for both stories and posts. Let's see the best editing apps you must try for Instagram.
Snapseed is Google's own photo editor that allows you to do more than just editing. It goes a deeper level and adds bokeh effects, professional controls and tons of tools for photo correction tools. All these tools give you more power in your hands to mess with your photos.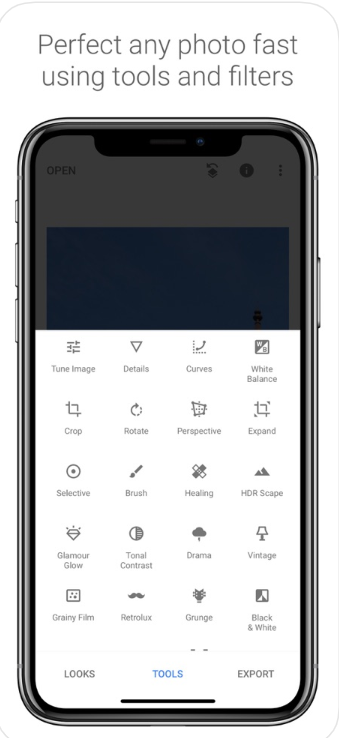 You can also play with text and advertisement ready banner filters. Snapseed is one of the most complete applications in the lineup for someone who has never used an editor. The best part is that you can open RAW files in the app as well!
Hyperlapse
Like time-lapse videos? Here is one app that offers Optical Image Stabilization quality via software. This app is great for shooting timelapse videos on your phone. The app is served from Instagram and can be used from the story cam of your devices.
The results on the app are awesome. You can try it by simply pressing the video record icon. The app will speed up the video capture in your device. You'll have to hold the button for quite some time to keep recording. Other than that, it's great for some experimental fun.
Camera + is one of the most professional Apps for Instagram editing. You can bring some of the most sought features to your phone by using this app. You can capture via the Macro Mode, Portrait Mode, click in RAW mode and many more. Use the app to find out the possibilities hiding in you.

Therefore, we recommend this app for professional editing and photography pages on Instagram. There's a ton of stuff to explore and we are sure you can find something worthwhile.
Instagram Filters App
After talking about Instagram filters, it's now time to explore the best of filters on other apps. Let's see which other apps have the best filters in the business to get your photos look beautiful!
VSCO's A6 filter is a great alternative to Instagram's pre-built filters. It offers a neat, minimalist tinge to the feed that preserves the originality. You will see a number of fashion bloggers use this filter. The main reason is the subtle shift it offers. No one likes blown out pictures and the smooth tone the A6 filter offers is to die for. Try it now, if you have not!
Afterlight's Russ is a light faded filter that adds a smooth layer of the picture. Pictures that are too vibrant or have acute contrast can settle out using this filter. You can even out the boundaries of colors and get good results with this one. We recommend it for food pictures and low light photography as it adds a layer of sheen on the picture. Perfect for that mood of a candlelit platter on your dinner date.
This filter is an Autumn special and features a fine-tuned color scale for rusty colors. None of the colors after this effect are going to look punchy. It'll settle down a warm layer of brown and yellow. The layer acts as a great Autumn season effect when the weather is rustic and warm. You can use the filter for great outfit photos. If you do #ootd pictures, this one's a must try.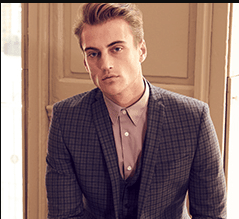 James writes SEO/SMO articles for businesses that want to see their Google search rankings surge His articles have appeared in a number of Websites. He contributes articles about SEO/SMO techniques regularly.